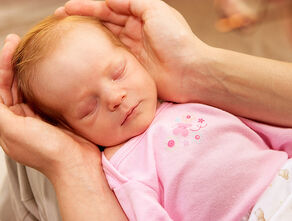 The first few months of parenting are very very hard, especially for a stay-at-home mother. You don't get much sleep, your brain is awash with hormones, you don't get much adult interaction, and to top it all off there aren't any concrete goals or projects to work towards. Taking care of yourself becomes very important.
Parenting a newborn doesn't really have an Epic Win to work towards, since the challenges will mostly go away on their own as the baby gets older. So the Quests are more things to try that might make parenting easier or more rewarding.
Power-ups
Edit
Sunlight

If you aren't careful, it's easy to spend days at a time indoors, without bothering to get dressed and get outside. But fresh air and sunlight are important for humans! Get outside, even just by sitting on your front steps for a few minutes. If the weather is disgusting, at least sit by a window for a while.

Builds emotional resilience.

Reach Out

The first few months can be very very isolating. Take a few minutes to make contact with another adult, via phone or email or Facebook.

Builds social resilience.

I Feel Pretty

Take time to do one thing that makes you feel pretty today. Put up your hair, put on earrings, or just put on a pretty lipgloss. It doesn't matter if nobody will see it - you know you're beautiful!

Builds emotional resilience.

Get Out

Get out of the house today. It doesn't matter where - go to the grocery store and buy one thing, or go to the library and grap a juicy novel, or go to the mall and wander around. The change of pace is good for both of you. Keep an eye out for community bulletin boards that migth have information about playgroups or other local activities you could try.

Builds emotional resilience.

Tidy-Up Boogie

You need most of your energy for parenting, but doing a tiny bit of cleaning once in a while can make you feel much better about life. Pick one song (maybe something from the List of Power-up Songs ), put it on, and start picking things up. When the song ends, stop working. That's all the housework you need to do today.

Builds physical and emotional resilience.

Music Time

This is a great time to share your favorite music with your baby, since he or she is too little to be bothered by any less-than-savoury content. Crank up your ipod and sing along to all your favorite guilty pleasure songs. Even better, dance with your baby for some extra exercise and snuggle time.

Builds emotional resilience.

Not Alone

Find an online blog or forum where you can talk to other mothers. Every challenge you are facing has been experienced by thousands of other women. If you read about their experiences, you won't feel so alone.

Builds social resilience.
Moodswings

Symptom

Tons of new hormones and new experiences can lead to wicked moodswings. Take a deep breath and recognize that moodswings are normal and they will pass. Activate a Power-Up and wait for your brain to restabilize.

(But please, if you find yourself crying most of the time or the moodswings don't seem to pass, call your doctor immediately. Post-partum depression is nothing to mess around with.)

Tiredness

Symptom

There's not a lot you can do to keep from being tired at least some of the time - the baby has to eat, after all. But take it easy and sleep whenever you can. The dishes will wait. If you're getting really exhausted, see if you can find someone to watch the baby for you for a few hours. Other mothers are a great resource for this, since they were in the same place once.
Wrapping

Search online for babywearing instructions (try wrapababy.org or thebabywearer.org) and see if you can figure out a carry with just a piece of cloth (a tablecloth works!) Most babies love being cuddled up on their parents (once they get situated, at least) and it leaves your hands free to do other things. If it doesn't work, don't beat yourself up - way to go for trying!

Builds physical resilience.

Say Cheese!

Take a few pictures of your baby today, whether with a real camera or on your cellphone. Even pictures of your baby crying will be precious in a few years.

Builds mental resilience.

Design Your Own Baby Clothes

Grab a pack of blank white onesies or t-shirts and try designing your own! If you're crafty you can buy fabric paint or embroidery supplies, but it's a lot easier to put something together on the computer and print it onto a printable iron-on transfer sheet. Or, if you don't mind the wait, upload your design to a website that does custom printing, like CafePress or Zazzle. (inspired by Rookie Moms )

Builds emotional resilience.

Date Night

Spend some special time with your husband (or significant other). If going out for dessert and a movie isn't an option, at least grab a pint of ice cream and two spoons and watch something together at home. Find ways to spend time with each other; you'll both feel better and your baby will be better for it.

Builds social resilience.

Playtime

Plan special times with your older children. Whether it's an easy craft, a pizza dinner, or just some snuggle time, everyone will be happier.

Builds social resilience.
Note: Content on this wiki is created by fans of, and players of, the game SuperBetter. Content here is not official or endorsed by the game's creators. Nothing on this wiki is intended to be a substitute for professional medical advice, diagnosis, or treatment.
Add category